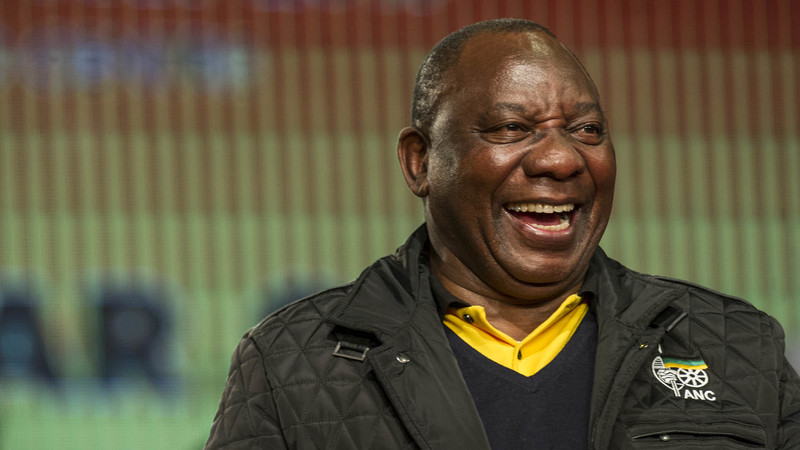 Cyril Ramaphosa is the new president of the ANC
The announcement was made just before 7pm after delays, a dramatic campaign season, and fears that the ANC's elective conference would end in shambles.
Supporters cheered when the ANC electoral commission's announcement was made, after waiting more than an hour for commission officials to arrive to declare the winners.
Cyril Ramaphosa won 2 440 votes to Nkosazana Dlamini- Zuma's 2 261.
The commission's Bontle Mpakanyane said 4 708 votes were cast, of the 4 776 total number of credentials.
Speculation mounted during the day that Ramaphosa had taken the leadership, with Jackson Mthembu anticipating the result.
« We have looked at the numbers. CR17 campaign has not talked about numbers, but we know that we have more than 2 389 to win this conference if you include our PECs that are in Western Cape, Eastern Cape, Gauteng and Northern Cape », Mthembu said.
Prior to the announcement, delegates sang songs in support of both Dlamini-Zuma and Ramaphosa. Up on stage, members of the party's national executive committee shared hugs as they waited. In one moment, ANC chairperson Baleka Mbete became tearful.
The mood inside the Nasrec centre was rapturous for much of the proceedings, but those in Dlamini-Zuma's camp, particularly supporters from KwaZulu-Natal, appeared disappointed.
The other top six positions are as follows:
Deputy President
David Mabuza. Mabuza got 2 538 votes to Lindiwe Sisulu's 2 159.
National Chairperson
Gwede Mantashe. With seven spilt ballots and 14 abstentions, Mantashe got 2 416 votes to Nathi Mthethwa's 2 269.
Secretary General
Ace Magashule. With 4 spoilt ballots and 8 abstentions, Magashule got 2 360 votes to Senzo Mchunu's 2 336.
Deputy secretary general
Jessie Duarte. With 4 spoilt ballots and 17 abstentions, Jessie Duarte got 2 474 votes to Zingiswa Losi's 2 213.
Treasurer-general
Paul Mashatile. With 6 spoilt ballots and 7 abstentions, Mashatile got 2 517 votes to Maite Nkoana-Mashabane 2 178.
By Ra'eesa Pather, in Mail&Guardian, 18.12.17
© Congoindépendant 2003-2017