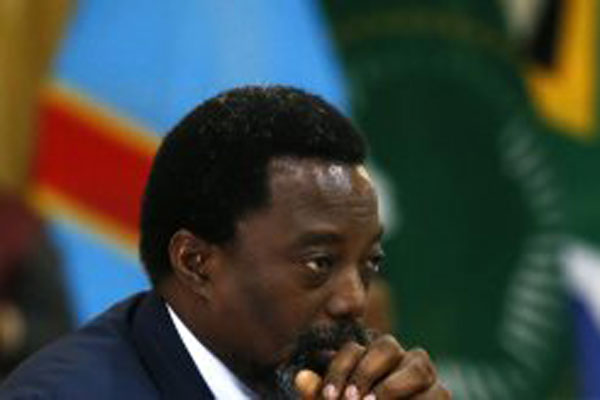 DR Congo pro-Kabila group launches electoral platform
Campaigners supporting DR Congo President Joseph Kabila, whom critics accuse of seeking an illegal third term in office, launched their electoral platform Sunday without saying whether he would run in a key election later this year.
The move comes amid fierce speculation over whether Kabila, in power since 2001, will seek another mandate in the twice postponed vote on December 23.
The Common Front for Congo (FCC), which has named Kabila as its « moral authority », wants to go on a « democratic conquest of power by supporting a sole candidate for the presidential election running on the basis of a common programme », said the president's chief of staff Nehemiah Mwilanya Wilondja.
He spoke at the signing of the FCC's new charter on Sunday, three weeks before candidates can file their applications in the former Belgian colony.
Kabila has not revealed his intentions despite appeals from the United States, France and Britain for him to clearly state that he will not seek re-election.
Celebrated Congolese gynaecologist Denis Mukwege, a three-time Nobel Peace Prize nominee, on Sunday called on his compatriots to « fight peacefully » ahead of the election, « which we know in advance will be falsified ».
« The solution is to fight peacefully for the total liberation of our country. After that will come the time of free, credible and transparent elections, » the renowned doctor said in a statement.
This « struggle » will « not be fought by our neighbours or distant friends, and certainly not by the international community, it is up to ourselves », he said.
Kabila, who took over from his assassinated father in 2001, presides over a country with a dark reputation for corruption, poor governance and armed conflict.
He was obligated to step down at the end of 2016 after he reached his two-term constitutional limit, but a constitutional clause has allowed him to remain in office until his successor is elected.
Elections that should have been held that year were rescheduled for 2017, and postponed again to 2018. The FCC put up posters of Kabila in May in the capital Kinshasa, which an opposition party said showed the president is « scheming to stay in power ».
By AFP, in Daily Monitor, 02.07.18