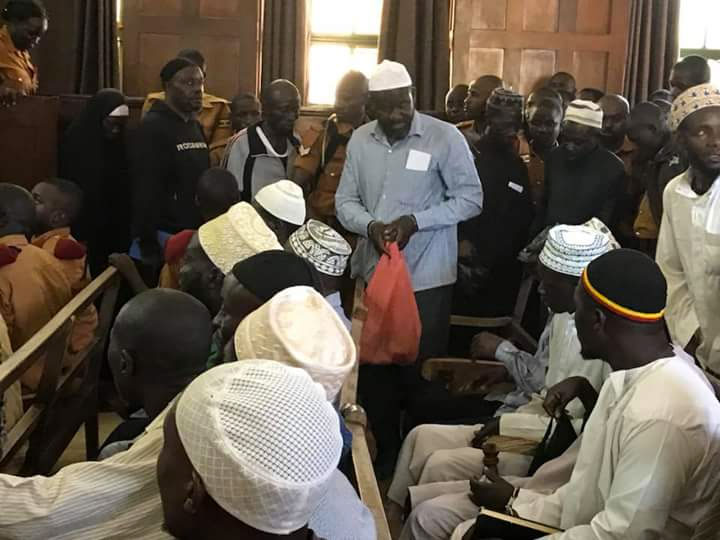 I'm not a murderer – Jamil Mukulu
Security is tight at the High court's International Crimes Division in Kampala as the pre-trial hearing of Jamil Mukulu, a former rebel of the Allied Democratic Forces (ADF) kicks off.
Mukulu and 34 others are on charges of terrorism, aggravated robbery and murder among others. More than 50 counter terrorism and Military Police officers have surrounded the court premises.
Relatives of the suspects have also come in large numbers to witness the scheduled judgment and have been subjected to maximum security checks at the court entries – with only those having valid identification allowed inside the court premises.
The suspects arrived with both their hands and legs handcuffed and chained. Upon his arrival, Mukulu was ranting that he is not a murderer and neither is he guilty of the charges against him.
« I'm not a murderer, the people who killed are in this country. This country is full of mafias », said Mukulu.
The trial session will be presided over by Justice Eva Luswata and is expected to last for a month. Justice Luswata will be assisted by Justices Moses Mukiibi, Suzan Okalany and Michael Elubu.
The rules of this specialized court, require a suspect to go through a pre-trial session with prosecution adducing evidence to prove whether there is a prema-facie established against him/her or not.
Mukulu is charged with one count of terrorism, seven counts of murder, nine counts of aggravated robbery, one count of aiding and abetting terrorism and one count of crimes against humanity. Other charges are; four counts of attempted murder and one count of belonging to a terrorist organization.
Mukulu was the leader of the Allied Democratic Forces rebels who terrorized some parts of Uganda including allegedly planting bombs in Kampala in the 1990s until he was arrested 2015.
Mukulu is represented by lawyers Wandera Ogalo, Evans Ochieng and Laudislaus Rwakafuzi  have also sat at the moment.
Written by URN, in The Observer, 14.05.18