Opposition parties plan national shutdown to force Zuma's exit
Opposition parties are planning a national shutdown to protest against the long and drawn-out process leading to President Jacob Zuma's resignation.
Economic Freedom Fighters (EFF) spokesperson Mbuyiseni Ndlozi told News24 that the party would announce details of a planned national shutdown later on Thursday. « It's not just the EFF. We are planning a national shutdown that will be joined by everyone. We will make an announcement ».
United Democratic Movement leader Bantu Holomisa said opposition leaders were discussing the date. He however, said it would most likely happen on February 22.
« We want this to be a national discussion with South Africans to send a strong message under the hashtag #RemoveZuma. It's clear that the ANC is failing to remove Zuma. They are still trying to deceive South Africans with this talk of a transition. What is that? It's high time we take this to the streets, » Holomisa said.
The Democratic Alliance could not immediately confirm whether it would participate in the planned march, only saying that a statement would be released later on the day on its way forward.
EFF leader Julius Malema tweeted on Wednesday that the party would be, « going to the streets because those with power don't know how to exercise it, no-one can defeat the power of the masses ».
Malema then tweeted that the country needed militant and radical youth and students to take to the streets and reclaim the future from « old fraudsters ».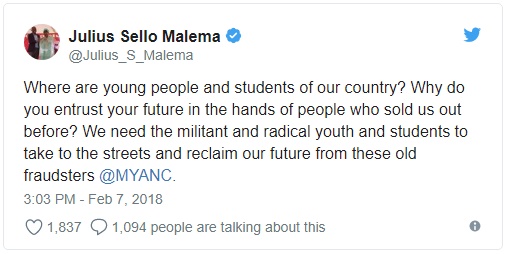 In an attempt to allay frustration, ANC president Cyril Ramaphosa said on Wednesday that talks with Zuma about the « transition » were ongoing, and there would be a report back once they had finalised all « pertinent matters ». Ramaphosa made this statement after cancelling a special ANC national executive committee meeting, where a decision was expected to be made to recall Zuma.
Parliament on Wednesday said there was still no proposed date for a State of the Nation Address (SONA), following its postponement, as the issue was being handled by the ANC leaders.
The party's Parliamentary caucus was holding a special meeting on Thursday morning.
By Lizeka Tandwa, in Mail&Guardian, 08.02.18
© Congoindépendant 2003-2018