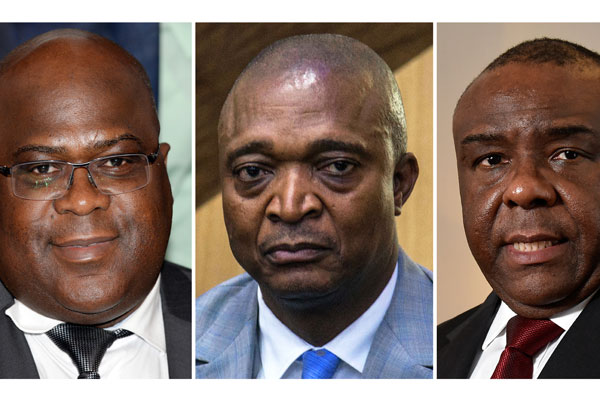 25 line up for DR Congo presidency
Three opposition heavyweights, a 92-year-old ally of an independence hero and the president's chosen successor are among 25 candidates who have registered to run in the Democratic Republic of Congo's long-awaited elections.
Emmanuel Ramazani Shadary, a former interior minister named by the government on Wednesday as the ruling coalition candidate, was listed as an independent, according to a preliminary electoral commission list issued Friday.
Shadary, who is on an EU sanctions blacklist, was anointed after President Joseph Kabila bowed to intense international and domestic pressure and decided not to run again in the elections scheduled for December 23.
The three main opposition politicians to throw their hats in the ring are Felix Tshisekedi, Jean-Pierre Bemba and Vital Kamerhe, who could eventually decide to line up behind a single candidate.
Tshisekedi, 55, is leader of Congo's oldest opposition party UDPS and the son of longstanding opposition leader Etienne Tshisekedi who died last year.
Bemba, also 55, is a former warlord and Kabila rival, who returned to Kinshasa this month after being acquitted of war crimes convictions by the International Criminal Court in The Hague.
Kamerhe, 59, is the leader of the opposition Union for the Congolese Nation, although he has previously served as parliamentary speaker and information minister.
The oldest candidate is Antoine Gizenga, 92, a former prime minister who was a brother-in-arms to national independence hero Patrice Lumumba and more recently a prime minister under Kabila after he first came to power in 2006.
The electoral body is expected to publish another provisional list of candidates on August 24 and a final list on September 19, just three months ahead of the vote.
By Daily Monitor, 13.08.18